5 Exterior Updates That Boost Curb Appeal
Posted by Michael Bartus on Friday, May 19, 2017 at 9:32 AM
By Michael Bartus / May 19, 2017
Comment
Imagine pulling into a beautiful neighborhood in an attempt to find the perfect house only to discover that the listing you had your eye on doesn't look quite as you imagined. The driveway is cracked, paint is chipping off the home's exterior and there are overgrown bushes covering the windows. These individual details may seem insignificant on their own, but it's those small details that really add up and impact curb appeal.
Curb appeal, otherwise known as a home's first impression, is crucial not only for increasing property value but for making a home easier to sell. If you're a potential buyer, you're going to be less likely to check out the inside of the house if the exterior is less than inviting. Whether you're planning on selling your home or just want to freshen your exterior, these five updates can increase curb appeal to create a lasting first impression:
Replace Your Siding
The first step to giving your home a complete facelift is re-siding. A chipping, rotting, warped exterior can turn away a potential buyer in a second. Living in the Twin Cities, it's important to select a siding that can withstand the harsh elements year after year. Wood may give your home a natural, rustic look, but it's often associated with time consuming and expensive maintenance cycles. This is because wood and wood-based siding is susceptible to warping, rotting and splitting after exposure to moisture, which can cause the paint to chip and peel.
Fiber cement siding, however, provides the same authentic look of wood, while resisting harsh weather conditions to keep your home's exterior in pristine condition. James Hardie fiber cement siding, for instance, resists damage from moisture and offers a tough line of defense during severe weather. Durable fiber cement does not rot and is more resistant to expansion and contraction when exposed to moisture than wood or wood-based siding, helping your home to remain in good condition throughout the icy, snowy Minnesota winter. James Hardie siding is engineered to perform best in the geography where it's installed to not only provide a beautiful, lasting exterior, but peace of mind that your home is protected. This translates to less money and time dedicated to regular maintenance.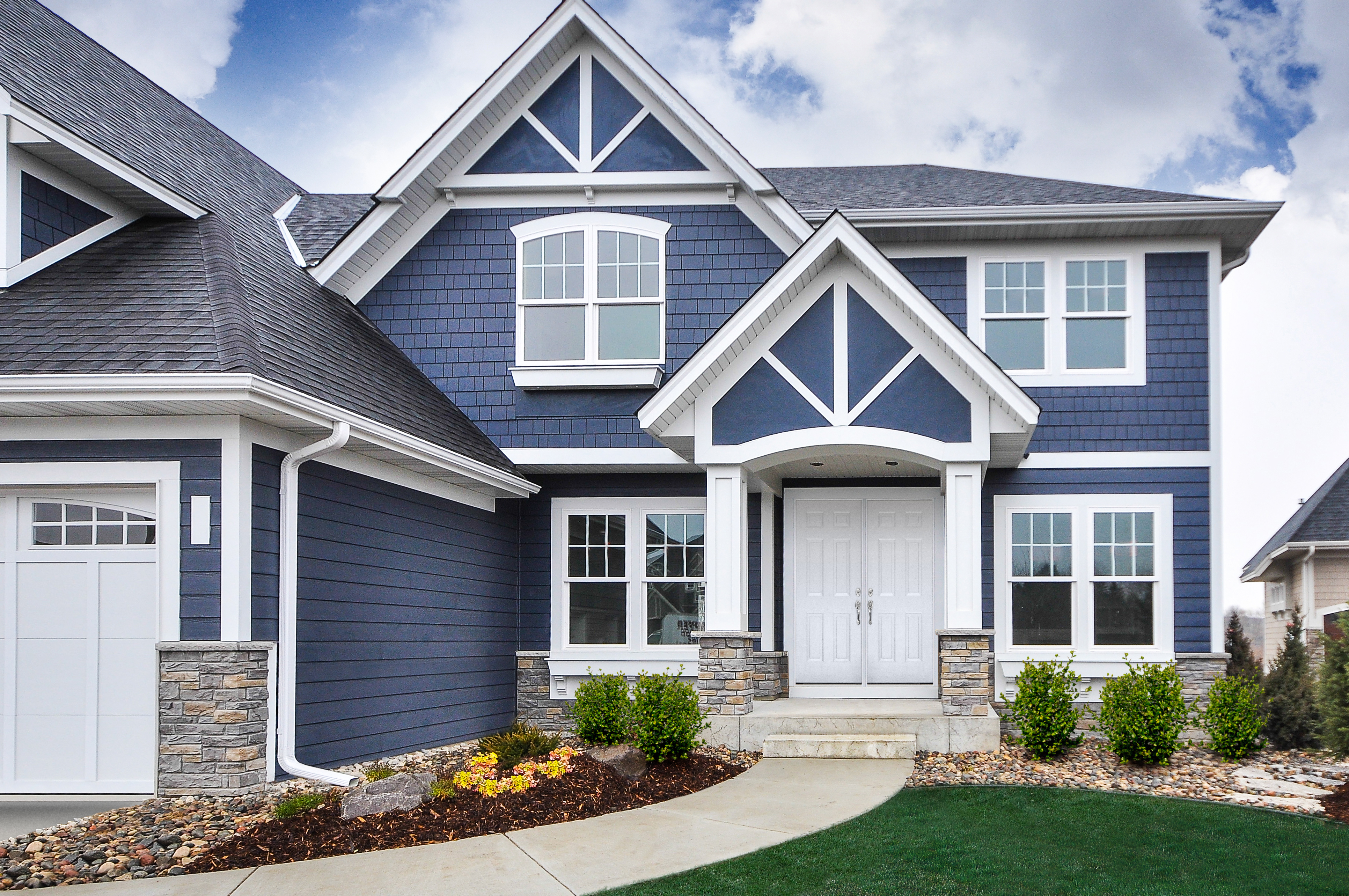 To give your home brilliant color, James Hardie's ColorPlus® Technology offers an array of color selections created by experts that match whatever home style you have in mind. It also provides your exterior with gorgeous baked-on color that resists chipping, cracking and peeling. ColorPlus Technology utilizes a proprietary process to apply multiple coats of finish under controlled factory conditions to eliminate debris, optimize paint adhesion and reveal a consistent finish that offers better fade resistance and lower maintenance than field applied paints. Therefore, there's no need for painting upon installation, which eliminates risk for inconsistency and decreases the time needed to re-side.
Refresh Your Front Door
One simple way to instantly bring a new look to your home is by giving your front door a fresh coat of color. Give it a touch-up using its existing color or select a different tone entirely that complements the rest of the hues on your exterior. Make a strong first impression with a bright color like red, or opt for a subdued aesthetic with a neutral.
Try using your exterior siding as a color cue. Your front door can be used to complement siding or provide a stark contrast for a bold aesthetic. For instance, accent your dark gray siding with a somber shade of lighter gray or opt for a heavier contrast on your front door with a crisp white or a bright red. Your home's style can also come into play when choosing a color for your front door. A modern-style abode might work better with a bold contrast, while a traditional exterior tends to work well with hues in the same color family as the siding.
Add Outdoor Lighting and Accents
Lighting can make or break the look of your home. It's what contributes to a welcoming entry and creates a warm and inviting aesthetic, which is especially important for buyers that may be taking a look at your home at night. Start by replacing any bulbs or fixtures that are broken. You can also consider updating light fixtures to match the current style of your home. Add accent lighting to a walking path, driveway or a garden to highlight certain elements of your exterior. While you're at it, consider updating other hardware, like light fixtures and door handles and knockers.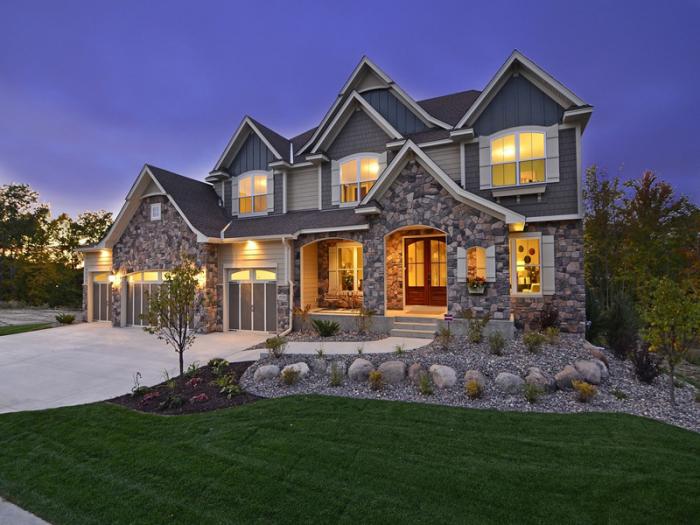 Update Landscaping
Having overgrown plants can be just as detrimental to curb appeal as having nothing at all. You don't want your home looking like a barren wasteland, but you also don't want it to appear chaotic. According to renovation expert Bob Vila, good landscape design can increase the value of your home up to 20 percent. A well-landscaped home involves keeping up with the basics, including regularly cutting the grass and clearing out dead greenery. After your yard has been cleaned up, consider planting colorful flowers or adding some potted plants to your front porch for a splash of color. You don't have to be a landscape architect to get the job done well – a little bit of effort can go a long way in creating an attractive exterior.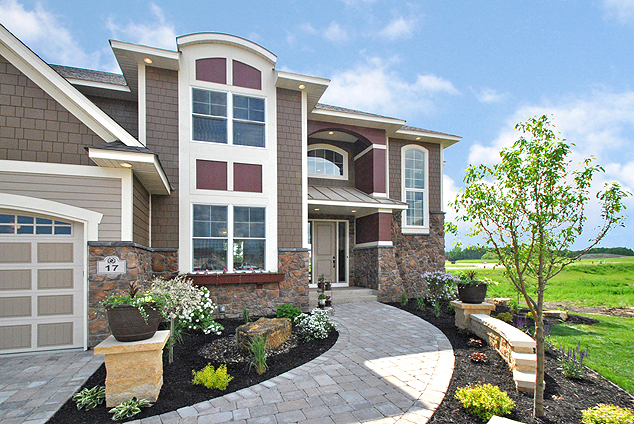 Install a New Garage Door
Just like siding, garage doors can make a big impact on the overall aesthetic of your home. After all, it can take up just about 30 percent of the front of your exterior. Much like choosing a shade of paint for your front door, you'll want to select a color and material that complements your siding and enhances your home's style. Choose a simple frame design for a traditional home or opt for a smooth, non-textured door to complement a modern-style abode. And here's an extra bonus: Updating your garage door may provide better insulation, helping to improve your home's energy efficiency.
Written by Hans Uslar, repair and remodel segment manager for James Hardie