Award Winning Education
Minnesota Education Stats | Education Links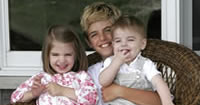 A huge stress with any move involving children is selecting the right school district. Fortunately, Minnesota's education system is consistently highly ranked in comparison with every state in the Nation. The Twin Cities is blessed with many choices when it comes to unifying great neighborhoods with top quality school districts.
Minnesota Education Stats
On numerous indicators Minnesota ranks #1, or near the top, in education performance.
According to the National Commission on Teach and America's Future, Minnesota's teaching force is the highest ranked in the nation, based on 12 quality indicators.
Minnesota eighth-grade students ranked first in the nation in math proficiency on the 2003 National Assessment of Educational Progress (NAEP).
Our state's fourth graders ranked second nationally in math proficiency in 2003.
Minnesota had the highest nationwide ACT scores for 2005. Minnesota scored an average of 22.3 compared with the national average of 20.9.
In 2000, 90.8 percent of Minnesotans 25 and older had a high school degree, the third highest rate in the nation.
Fourth and eighth graders in our state rank fifth in the nation in reading proficiency.
Minnesota has produced the second largest number of National Teachers of the Year – four, second only to California.
For example Newsweek rated Edina High School as the 201st Best High School in the nation. Hopkins High School was one of 62 high schools nationwide honored for overall excellence in Redbook magazine's America's Best High Schools project. The College Board named 116 Advanced Placement (AP) Scholars from Minnetonka High School for outstanding performance on AP Exams taken in May, 2004.

In the Metro we're proud of our schools, athletics, and extra-curricular activities. When considering a move to the Twin Cities ask how I can help meet your family's education needs.
Education Links
Twin Cities
Featured Searches